INNOGY GOLF CUP
08.09.2023
All-day golf tournament not merely for participants and partners of the conference under the motto Energy without handicap.
September, 8.00 am, Silesia Golf Resort in Kravaře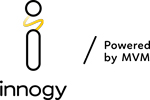 The traditional golf tournament of the innogy energy group in Kravaře is played using the Competition Stableford Adjustment method. A golf academy and a putting competition will be prepared to accompany the players.
8.00 Registration and breakfast
9.30 Opening of the tournament
10.00 Cannon start
16.00 Buffet
16.30 Announcement of tournament results